How is a tire made?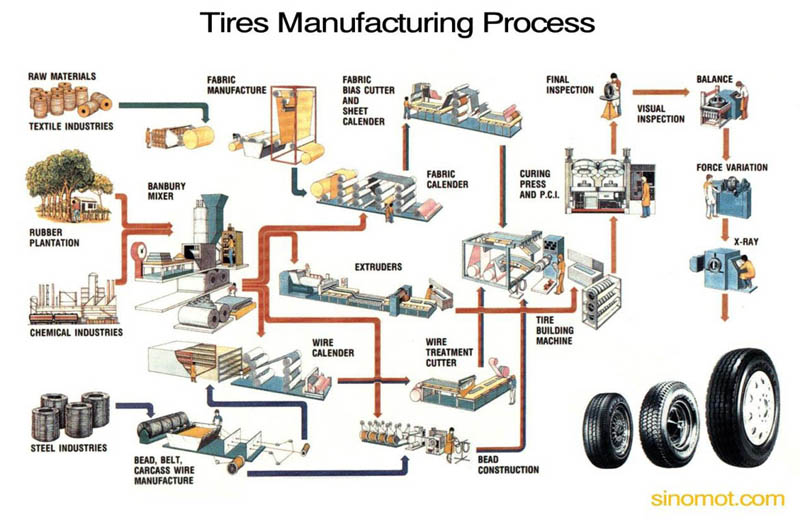 As the only part of vehicles that touches the road, tires must strike a balance between traction, comfort, durability, energy efficiency and overall cost. Considering all of these competing needs, we work hard to design and produce the most suitable tires for you.
★ Research and feedback
Research of markets and feedback from customers are the first step for our designing
★ Materials mixing
Over 200 ingredients go into a tire. They play vital roles in safety, fuel efficiency, performance and eco-friendliness.
These components fall into five groups:
Natural rubber: the main component of the tread layers 
Synthetic rubber: part of the treads of car, van and 4x4 tires 
Carbon black and silica: used as a reinforcing agent to improve durability
Metallic and textile reinforcement cables: the "skeleton" of the tire, forming the geometric shape and providing rigidity.
Numerous chemical agents: for unique properties like low rolling resistance or ultra-high grip
★ Designing
We create many different designs and use simulations to test and select the best tire concepts to be developed.
★ Manufacturing
We expertly build each tire through both hand-made and automated processes
★ Quality control
Quality control is not only an end step. We measure quality throughout the process.
Tire Structure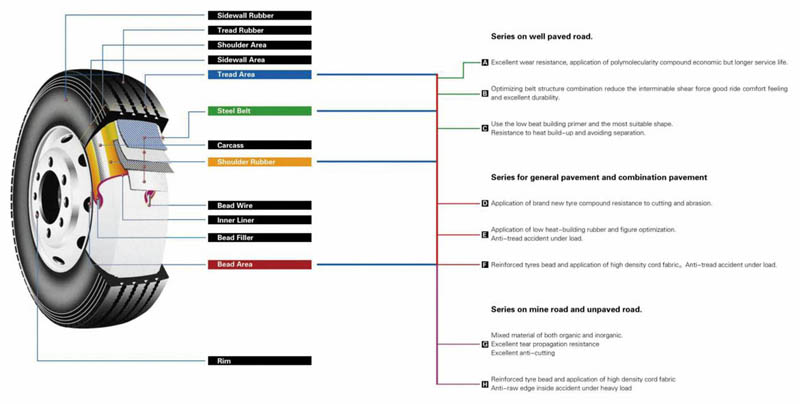 Reading Your Tire